Accessible Parking
Parking spaces designated for use by persons with disabilities are available in card access lots and visitor lots on campus.
Campus Parking Services allows students, faculty, and staff with disabilities to request reciprocal parking in lots other than their assigned parking facilities for no additional charge.
In order to obtain accessible parking accommodations, you must present your state issued disability placard or the registration for your disability license plate to the parking office.
If you are unable to provide the placard or the registration, you will need to visit the Disability Resource Center (student) or University Health Services (faculty/staff) with documentation in order to establish eligibility.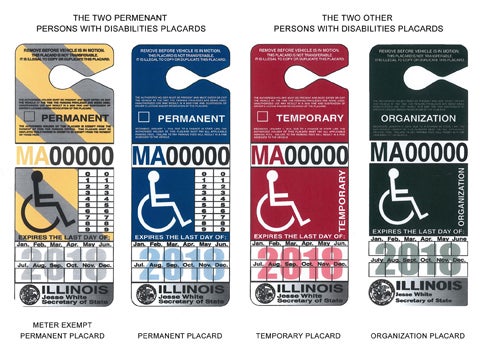 Yellow Placards allow parking in short-term meters and disabled stalls up to 2 hours free.
Blue/Red/Green Placards and Disability License Plates allow parking in disabled stalls. Must pay posted rates.
Additional parking accommodations for disabled customers may be provided with appropriate documentation. Please contact one of the Customer Service Offices for details.
https://www.cyberdriveillinois.com/services/persons_with_disabilities/disabilities.html